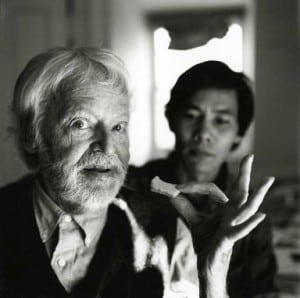 A Legacy of Blues, View, and Theatre
Charles Henri Ford is considered the father of American Surrealism, and his magazine View was the main forum in the United States for the Surrealist movement of the 1940s. Before that, the little magazine he began work on in 1928 at the age of twenty, Blues: A Magazine of New Rhythms, was groundbreaking, paving the way for View. In addition to his own prolific output as an artist, poet, and filmmaker, Charles remained a highly influential figure among artists of all kinds for his entire life. His sister, the actress and writer Ruth Ford, worked with William Faulkner on the play Requiem for a Nun, made numerous films, and was legendary for the salons she hosted in her large, art-filled apartment in the Dakota.
Indra Tamang collaborated on art projects with Charles Henri Ford for decades and cared for Ruth during the last years of her life at the Dakota. Having inherited the rights to the work of both siblings, he is at once copyright holder and meticulous steward of their significant cultural contributions.
The Project
The Charles and Ruth Project was initiated by Mr. Tamang to further their legacies and those of their many friends, who together form a remarkable international chain of luminaries from the world of 20th Century Arts & Letters. This site is run by Indra and his assistant with the Charles & Ruth Project, Romy Ashby. Anyone with questions or comments is warmly invited to send an  email.
All material posted on this web site, including text, photos and other artwork, is protected by copyright and must not be used without permission.
Please follow us on Facebook